A warm welcome and many thanks for visiting by blog and especially a bit thank you to our party host, 2 Bags Full - Vicki.

This is my first Blog Party and I am excited to join you and have you join me. I am looking forward to viewing other guest's blogs during this 2015 Party Season.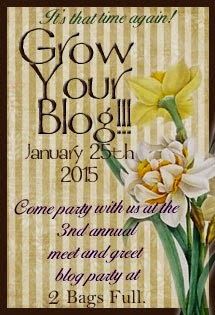 My name is Cherie and I am the mum of a 21 year old son and a 25 year old daughter, who still live at home with my husband and I.
I am happy with this as I love having them around and both are my motivation and inspirations in everything I do.
We live on 25 acres in the Adelaide Hills, in a lovely old Georgian home, with 3 dogs, 2 cats, 2 alpacas, 3 horses, and many many wild birds who visit each day.
My

blog is still a baby and is mainly about my journey through learning embroidery techniques, predominantly hand embroidery. It began as a means for me to record my progress and as a tool for me to look back at my travels with thread and a needle. In February of 2014, I began a yearlong project and named it "Dear Diary 2014".

Each week I took inspiration from an image in my V&A Diary, and then interpreted it into a stitch based sample.

My aim was to produce a ledger of handiwork to keep as inspiration for the future.
It is now complete and has become a Sampler Book - a Needlework Ledger, to keep on display ensuring that my stitching future is full of inspiration. You can find more about this project on the right hand side of my blog under "Labels". Each post is labelled by weeks, Week 1, Week 2..etc..
I also enjoy casual journal writing, and love the feeling of expressing my thoughts into written words, which, I have decided, will form the basis of my hand embroidery journey for 2015.

My intent for 2015 is to begin daily journal writing for the very first time. I have conducted a touch of research and have come to the conclusion that journal writing is a means to turn inwards by writing down your thoughts and feelings, and then perhaps analysing.. I feel the process of journal writing would be a valuable tool to help heal and grow, because by writing down our thoughts we are clearing our mind, making room for new thoughts to enter without being cluttered.
From this journal writing I will take snippets, sentences or just one word and interpret that into a stitch sampler.
So to all you party goers, I do hope you will continue to check back here over the year to see my progress with journal writing, stitch sampling and most importantly growth and healing.